Nero 8.4.0 Ultra Edition(28/8/2008)
[ 2008-11-26 23:03:06 | Tác giả:
bvl91
]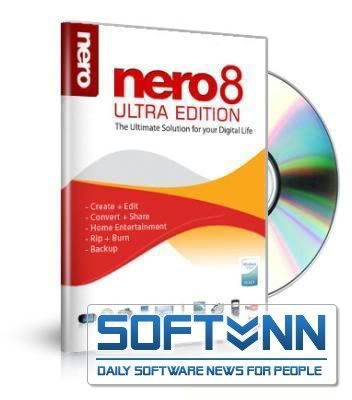 Nero 8.4.0 Ultra Edition
Introduction
Nero 8 Ultra Edition, the newest version of the world's best-selling multimedia suite, brings the digital world to your PC. Now it's easy to organize and manage all your multimedia files, as well as create and edit new digital content. Nero's sleek design and user-friendly tools make completing projects fun and enjoyable.
Nero 8 Ultra Edition is a software solution that brings the digital world to your PC with features that make it fun and easy to create multimedia projects with high-quality, professional results. Create MP3 mixes and edit vacation videos in High Definition format. Share content around the world with simple Internet upload functions. Burn a disc with just one click, and then enjoy it in any room in your house with versatile streaming features. Rest easy knowing your data is safe in the event of a system crash or a damaged disc. Nero 8 Ultra Edition lets you live the digital life with cutting-edge technology and world-class features.
Nero 8 Ultra Edition comes loaded with a number of features that enhance Windows Vista®. With the Nero DiscCopy Gadget, you can copy a disc of any format with just one click. With Rich Preview, you can view the contents of your files without having to open a separate application. With Nero MCE Plug-ins, you can burn and stream your content on a Windows Vista® MCE powered machine.
Features:
Create and Edit
Video
With Nero 8 Ultra Edition you can easily edit High Definition content in AVCHD format with professional results. Insert chapters and menus, and even enhance videos and slide shows with background music. Enjoy your favorite TV shows without interruption simply by editing out the commercial breaks.
Audio
Convert your music collection to MP3 format and experience listening pleasure at home and on the go. Impress your friends at your next party by mixing and editing your favorite songs with professional effects and tools. With Nero 8 Ultra Edition, you get crystal-clear audio for your video files and up to 7.1 surround sound.
Photo
Give your pictures a touch-up with tools that let you make improvements, add visual effects, and much more. Surprise your kids by presenting a family slide show on your television set! No more searching through tons of files for the images you want. With Nero 8 Ultra Edition, it's easy to organize your photos!
Convert and Share
High Definition
Convert HD content easily into AVCHD format, and compress content without losing quality. Your HD content can then be burned to a normal DVD and played on a Blu-ray Disc player or PlayStation® 3 for the ultimate blue laser experience.
Video Conversion
With Nero 8 Ultra Edition, you can simply convert DVD content to play back on an iPod® or PSP™. Use the world's fastest MPEG-4 encoder to compress DVD content while maintaining optimal quality, then burn to a CD or save to a USB stick, Flash memory, or an SD card.
Music
Nero 8 Ultra Edition offers unlimited MP3 support. Convert your audio files to MP3, the world's most popular audio format, and enjoy your favorite songs at home or on the go.
Internet
Share the latest news of your life with friends right over the Internet! Post your best videos and photos with easy upload to online communities like My Nero, YouTube™ and MySpace®
Home Entertainment
Media Center
Turn your living room into a real media center and experience home entertainment like never before! Stream live TV to an Xbox 360™ or PlayStation® 3. Connect your game consoles to a TV and enjoy your favorite shows in any room in the house!
Television
The EPG support in Nero 8 Ultra Edition makes selecting and recording broadcasts easy! Even if the phone rings while you're watching TV, with the Time Shift feature you can take your phone call, and then resume watching your show exactly where you left off!
Music Streaming
With Nero 8 Ultra Edition, you can create playlists and stream music from your PC to your stereo for uninterrupted tunes all night long!
Rip and Burn
Rip and Burn
Rip audio CDs and non-copy-protected DVDs quickly and easily with the world's leading burning engine. Burn audio files or data to CD, DVD, Blu-ray Disc, or HD DVD. Want to burn movies to DVD? With DVD-R Dual Layer and DVD+R Double Layer support, you'll get more data on a disc than ever before!
Nero DiscCopy Gadget
The Nero DiscCopy Gadget is optimized for use with Windows Vista® and lets you copy a disc with just one click from the Vista® Sidebar!
SecurDisc Technology
With Nero 8 Ultra Edition and a SecurDisc-compatible drive, you can burn CDs and DVDs with password protection against unauthorized access, or add a digital signature to ensure that your sensitive data remains unchanged.
Back Up
Data Protection
No more worries over lost data! With SecurDisc technology, you can back up files, drives, and entire systems to internal or external hard drives. For maximum protection, create a bootable CD to recover an entire system after a crash.Create backups over the Internet to an FTP server and access important data from anywhere you go!
SecurDisc
With the SecurDisc technology within Nero 8 Ultra Edition, you can ensure increased readability of your data even on a damaged disc. In addition, the early warning system in SecurDisc examines CDs and DVDs to determine if an aging disc is in danger of decay, so you have time to back up the data on another disc.
System Requirements
* DVD-ROM drive for the installation
* Windows® 2000 (SP4 or later), Windows® XP (SP1 or later), Windows® Server™ 2003 (SP1 or later), Windows® XP Media Center Edition Windows Vista®
Gadgets are not available for Windows Vista® x64
Nero ImageDrive currently supports Windows® 2000 and Windows® XP (32 Bit only)
* Windows® XP Professional x64, Windows® Vista® x64 (all applications except InCD, and Nero Scout work in the x86 emulator, which allows 32-bit applications to run)
* DirectX 9.0c or better
* Windows® Internet Explorer® 6.0 or higher
* 1 GHz Intel® Pentium® III processor, AMD Sempron™ 2200+ or equivalent
* Minimum 256 MB RAM (for Windows Vista® minimum 512 MB RAM)
* 1.2 GB hard drive space for standard installation of all components
* Up to 9 GB available drive space for DVD images and temporary DVD files
* Graphics card with at least 32 MB video memory and a minimum resolution of 800 x 600 pixels and 16-bit color settings. However, we recommend 24-bit or 32-bit for true color.
* CD and/or DVD/DVD-RAM recorder
* Installation of the latest WHQL (Microsoft® Windows® Hardware Quality Labs) certified device driver strongly recommended
* Internet connection with DSL 1000 speed or higher for the registration and the update of the Nero 8 help files and other functions. It is also required for the activation of the complete functional range (DVD, MPEG-2, MPEG-4, and AVC), which will be required 30 days after installation. This activation is free of charge. The costs for the Internet connection are carried by the user.
* To install Nero 8 you must have administrative rights for all operating systems higher than Windows® 2000.
* For capturing and burning in real time: at least 1.6 GHz Intel® Pentium® 4 processor or AMD Sempron™ 2600+
* At least 1.4 GHz Intel® Pentium® processor with 256 RAM for TV recording and DVD video editing
* Drive with SecurDisc™ support
* 16-bit Windows® compatible sound devices and speakers
Homepage-Trang Chủ:
http://www.nero.com/enu/index.html
Size: 184MB
Link Mediafire
Part 1: http:/www.mediafire.com/?rarkktdyitn
Part 2: http:/www.mediafire.com/?o16zah5ezaz
**************** Hãy cùng chia sẻ với bạn bè bằng cách ****************
Copy đường link dưới đây gửi đến nick yahoo bạn bè!

Bài Viết Ngẫu Nhiên: